Shortly after the turn of the year I stated one of my goals for 2015 was to have a massive clear out and sell £1,000 worth of clutter on ebay. Well it's taken slightly longer than I hoped but we've finally hit the target. Here's the proof:

Impressive you might thing but did I simply sell an old car or maybe some of the family silver in order to hit the £1k mark? Was this feat achieved with a one hit wonder? No, the most valuable item sold for £132.67 and the cheapest went for £0.99.
Here' the full list of what we no longer own:
12 x books
1 x fishing/camping bed chair
1 x coat
1 x dress
1 x iPhone speaker/dock
1 x camera flash/speedlight
2 x watches
1 x board game
1 x antique wooden cake stand
1 x recipe card tin
1 x backpack
1 x china mug
1 x bike crankset (the bits the pedals are attached to ;-))
2 x front grill off old cars
1 x pair of cufflinks
1 x tilley lamp
1 x set of egg cups
1 x energy monitor
1 x wooden shelf unit
30 x glass tea light holders
1 x big bag of fabric
8 x fish bowls!
After a blistering start in the first month our progress slowed down considerably. We've been busy, we got lazy and other things came along but in the end we hit the target.
Lessons Learned
Money aside this has been a great experience. It has prompted us to begin a radical downsizing of the inventory of things we own, many of which we don't use and are mainly stored in boxes in the garage and loft. When you start looking it is scary just how much 'stuff' accumulates.
A recent study by UCLA focussed on the accumulation of stuff highlighting some of the absurdities of this behaviour. IN that article it fascinated me that in the smallest house in their study they saw 2,260 things in just 2 bedrooms and 1 living room. Take a moment to stand in your living room and count how many items you can see…it's a scary business.
If you're not careful this will happen…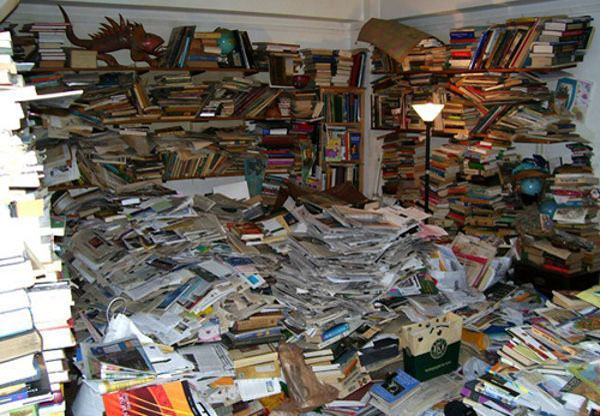 Change of Behaviour
The whole exercise has helped us change our behaviour. Undoubtedly it has made us much more reluctant to bring/allow more possessions in to the house going forward. As proof both Mrs UTMT and I have recently had our birthdays. We managed to persuade all of our families that we really didn't want anything for our birthdays. Instead of physical tat we managed to get a mix of donations to charity, a lovely meal out and a pension contribution to my nephews (aged 8) pension!
Time In v Time Out
The thing that stuck me most was how much effort it was to get rid of all of this stuff. Time spent listing things on eBay, time spent in the post office (though I did discover the ability to buy postage online from Royal Mail mid way through which saved a lot of time), time spent rummaging around the house…it all adds up. I didn't have the heart to track this and calculate my hourly rate from this exercise but I know it wouldn't have made fantastic reading.
The effort to get rid of all of this stuff was so much more than it took to acquire/collect it all. As it happens glancing through the list above just under half of the items were given to us. It is the stuff that we sourced/bought ourselves and used rarely that really grinds on me the most (ahem…camera flash that is not compatible with my camera). This process has already made us question futures purchases even harder than before.
Make a Stand
My brother in law is a fair bit younger than me. He seems to have an inbuilt mechanism whereby he hates owning too many things. After he moved flats recently we tried to give him some surplus kitchen appliances/gadgets to and he nearly ran away. He seems repulsed by possessions.
He openly says that he hates owning too many things and that the only possession he really seems to value is his laptop. His 'ownership model' is definitely something I'm going to aspire to more in the future.
It ain't all about the $$$
During this process we ended up also giving away quite a lot of other items either to local charity shops or via the excellent Freecycle. While I'm sure there are some people trawling for items on Freecycle to sell them on ebay and turn a profit (quite frankly good luck to them despite it being slightly immoral/against the ethos of the community) it was really nice to be able to help out some local people.
As an example we gave away a spare bed to a local woman who had recently split with her partner and moved into a new place on her own. Not having a car I dropped the lot off for her and even gave her a hand assembling it. THe following evening we got a knock on the door and were greeted with her mother brandishing a freshly baked cake and home grown flowers to say thank you. You don't get that from eBay!
Conclusion
So the the £1,000 has been dispatched to my SIPP where it instantly became £1,250. Come April I'll be able to claw another £150 back from the tax man.
We won't stop here. The purge is continuing, more funds will be raised, more item liberated to other people and less of our time/effort/money in the future will be spent accumulating  clutter.