Last week1 the Money Tree household has been carless. After driving to the start/finish point for our Sunday morning walk we both noticed a distinct burning smell once we got out of the car. Doing my best to ignore the problem we were sitting on the tail gate putting on our walking boots when I noticed some smoke drifting over my left shoulder.
Despite being mechanically dyslexic, even I know that's not supposed to happen. After watching the smoke get worse I decided pouring some water on the brake cylinder was required and thankfully we were parked next to a small stream!
To cut a long story short after a tentative drive to the local garage, they could not find the problem. After cleaning the dust from the cylinder, the car was dutifully picked up and driven back to base. As soon as I got home and stuck my head under I noticed a small brake fluid leak so back to the doc it went. So, after 5 days and one new fluid pipe and we're finally driving again, uncertain that the cause of the smoke had been resolved.
The main benefit from being car less for a week was that it gave me a fantastic excuse to cycle to the train station everyday. The journey is only 4.5 miles but I always take a longer scenic route which makes it at least 12 miles each way, sometimes 20.
After a week of multiple trips and calls to the garage I got thinking about whether our strategy of owning a small (0.9l engine) old (16 years) car is an economical one.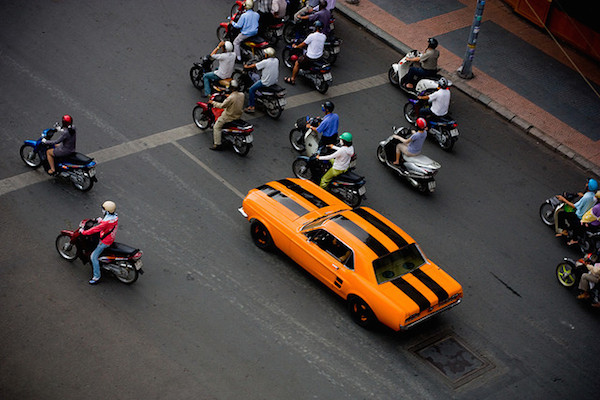 I've recently discovered a couple of friends/colleagues recently that lease their cars. Essentially paying a monthly fee for a lease that is essentially a long term car rental agreement.
If I were to lease a Fiat 500 from Ling's (you really should follow that link, if only check out the incredible website design) it would cost just £125.50 per month including VAT. Let's say my NISA portfolio returns 5% per year, I'd need approximately £30,000 invested to be able to pay for the lease out of the dividend income. Two years worth of NISA allowance (2 x £15,000 = £30,000) yielding 5% per annum would be enough to lease a Fiat 500.
Assuming income returns grow in line with inflation I could effectively use two years worth of NISA allowance to keep me in a lease car for the rest of my driving career. That's worth thinking about….
…until you factor in that you could buy a brand new Fiat 500 for £9,655 inc VAT. So after 6.5 years of leasing one I would have lost.
So before you go spend your hard earned cashbuying a new car, remember that every idiot knows that buying a new car is a sure fire way to lose 10-15% of the value the moment you drive it off the forecourt. For example you can buy a second hand model from a FIAT dealer with 25,000 miles on the clock for £6,500 – that is only 4 and a quarter years of leasing one. In other words leasing is a bit of a mugs game.
If you're a car snob and don't like buying second-hand then go buy a new Dacia Sandero for £6,000. That's not a lot of $ for a new car. For the same money you could:
lease a Fiat 500 for 4 years
lease a Range Rover Sport 5l V8 for 3 months!
The value gap between a Dacia Sandero for life and a Range Rover Sport for three months is massive. To me this highlights the huge financial trap that car ownership can be.
After getting a decent pay rise at work several years ago I remember my sister advising me to buy an Audi TT! After some brief thought I opted against it and instead put the extra money towards my first buy to let investment.
What a decision that turned out to be.
If I'd got hooked into upgrading my car every 3-4 years like many of my friends I'd likely be a lot worse off than I am now. Instead I own an asset that will one day (when I finally decide to pay off the mortgage) provide an income over £800 per month that will rise with inflation. I dread to think about what would have happened if i'd bought that Audi on the never never like most people do.
The Way We Roll
Unlike some of the school run mob TEA mentions, the bling factor isn't an issue for us. We have (by a long shot) what most of my fellow commuters would describe as the 'worst' car in the car park.
You may need to de-ice the inside of the windscreen on a winters morning but to date our Fiat Panda has done us proud since my wife (foolishly) bought it new2 12 years ago. It starts in the mornings, it gets us to where we need to go and we even once managed to move house with it (boy that was a long weekend!). It may not cut the mustard to the playground mums but it's everything a car should be and easy on the walet to boot.
Insurance is £120 per year (third party only, no fire or theft3), it's so small you can park it anywhere and there is minimal amounts of electronics on-board that usually lead to expensive hard to diagnose repairs. Repairs are cheap, it sips fuel rather than drinking it and frankly it's size and power encourage the avoidance of long road trips!
I love cycling so a 100 mile round trip to my fathers house for Sunday lunch may as well be done on a bicycle rather than a car. When your car isn't a blingmobile it encourages you to cut down on unnecessary journeys, get about on your own power which increases the longevity of both you, the car and your bank balance. Literally everyone is a winner.
Every day as I stroll through the station car park I walk past rows and rows of cars costing £25k, £35k, £50k and much more in some cases. I always wonder if the owners of these motors understand the true cost they'll ultimately pay for owning these machines. When the time comes for me to tear up my season ticket I suspect the vast majority of them will still be paying off the loans on the Range Rover.
Hell, even the little gaggle of teenage boy racers that often hang out in the station car park send smirks my way as I walk past their suped-up Corsas and head for the Panda. Every time it happens I think about that Audi TT that never was then the house with my name on the deeds that sends me a pay check every month.
So I'm interested to hear how you other FI nuts roll?
Notes: 

1This was actually about 3 weeks ago now, it's just taken me a while to finish writing this post!
2Just before we met
3Let's face it nobody is going to steal this thing and ignoring our smoking brake incident, how many cars do you see catch fire?