With all the talk in the media of deficits, lack of growth, negative rates and deflation you'd be forgiven for thinking that the stock market ought to be in the doldrums. But what's this flashing up on my screen…

The FTSE just hit a new record high, breaking the 7,000 mark for the first time ever. As you can see below it came awfully close to the 7,000 mark back in 2000 and again in 2007.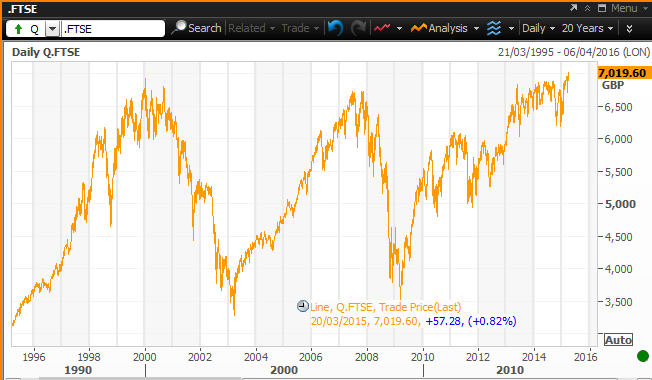 Government bonds, once the bastion of safe yield just don't cut the mustard any more. Last week 7 year German Bunds turned negative meaning that you now have to pay the German government for the privilege of lending them your money for the next 7 years.
The world had it's fill of CDOs, CLOs, CDO2, ABX, CDXs and MBSs back in the first half of the 2000's and that didn't really turn out too well. While some of these derivatives still trade the world likes it's income much more vanilla these days.
Banks are de-leveraging, governments are making (mainly feeble) attempts to de-leverage, hell I'm even de-leveraging myself despite record low interest rates. In these uncertain times investment in big, expensive long term infrastructure projects just isn't what most investors want to do with their money.
So looking around there's not many places to head for income apart from property and developed market stocks. Markets have been pumped up by the QE money that is sloshing it's way around the system looking for a home and some sort of income.
So What Next?
Well if you look at the chart above again a reasonable assumption might be a crash back down to the 3,500 level like the last two times. How might that happen? Well there's many way to skin a [fat] cat but…
Increase in interest rates (inevitable at some point) sparks property crash
Property crash sparks stock market crash
Throw in some Grexit/Putinism/Other Surprise Badness to really get the sell of going
Of course I have no idea what will actually happen to the markets over the next year. Based on my lack of fortune telling ability I'll keep calm and carry on my balanced approach of de-leveraging my property investments, investing in defensive income producing shares/etfs and reducing income tax via pension AVC's.
See you on the other side!