If you've got or are interesting in buy to let property investments then you'll almost certainly be aware of the upcoming tax changes that were announced in the budget in the summer of 2015.
At the core of the changes announced is the scrapping of higher rate tax relief on mortgage interest. Landlords will no longer be able to reduce their taxable buy to let profits by offsetting them with mortgage interest paid. Instead they will receive a tax credit that is equivalent to the basic rate (20%) on their mortgage interest.
Lets look at an example that assumes your rental income is £25,000 and you're paying £13,000 annually in mortgage interest. You're also a higher rate tax payer.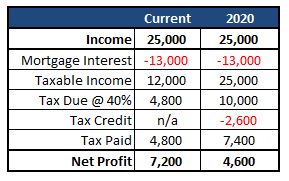 Under the current rules you'd be paying £4,800 in tax leaving you with £7,200 in your back pocket. However come 2020 (after the phase in period) you'll pay HMRC £7,400 and be left with just £4,600. Your post tax profits will fall by 36% as a result of the change.
The key here is that you'll effectively taxed on Revenue less Costs rather than profit as a result of these changes. This means things could get a lot worse for you. For many landlords, mortgage interest is by far their biggest cost. Lets take another look at the above example assuming that you're paying £20,000 per year in mortgage interest.
Whoops. Now all of a sudden your tax bill (£6,000) is higher than your Revenue less Mortgage Interest (£25,000 – £20,000 = £5,000). In other words you need to get down to the job center and find some more income to pay your tax bill.
Of course this is an extreme scenario. However it's not all that unlikely as many budding Buy to Letters have sought to rapidly build a portfolio up using as much LTV as they can get and interest only loans. If when interest rates finally start to climb and mortgage interest bills rise then this has the potential to cause a lot of financial pain for a lot of landlords.
Who is most affected?
Clearly this tax change is designed to affect additional or higher rate tax payers that are using leverage to run their buy to let business. If you've got a stack of properties on high Loan to Value interest only mortgages as well as a decent income (higher rate) from elsewhere then you almost certainly should be worried.
If you're a basic rate tax payer or you buy your property with cash (i.e. you don't currently pay mortgage interest) then you shouldn't be affected by these changes.
What can you do?
Don't panic. You'll still get a basic rate (20%) tax credit on the mortgage interest you pay. In addition all of the other fees, maintenance bills etc can be used to reduce your taxable profits as before. The changes are going to be scaled in over the next few years so the full impact won't be in place until 2020. The first thing you need to do is to sit down and work out the impact to you once the changes have come into effect.
Pay down the mortgage. This is the approach I've been taking for a few years. If you are already mortgage free then you will not be affected by these changes. Of course you'll still have a tax bill like before to try to minimize but the changes won't affect you.
Offset taxable income with other tax breaks. As mentioned in  a previous post one simple yet elegant solution is to pay you BTL profits into your pension. What you lose to tax on one hand you can gain via a tax benefit on the other. Of course as the rules change the definition of profit needs to be adjusted from 'rent less expenses and mortgage interest' to 'rent less expenses plus available tax credit on mortgage interest' but the principle remains the same.
Sell up. I suspect the aim of this policy is to encourage landlords to exit the business, increase the supply of property on the market which will reduce prices and make housing more affordable for those starting out on the property ladder.  If you are considering selling then be aware that if you've made large capital gains you may be liable to a big capital gains tax bill when you sell.
Remortgage. With interest rates at an all time low it's essential (as ever) to ensure you're getting the best (lowest) interest rate. This usually means that you should stick to short term mortgage deals which tend to offer the cheapest interest rates. Be careful though because refinancing costs are also set to lose their higher rate tax relief in these changes so avoid deals with high charges/fees.
Put up your rent. Unfortunately I fear this may be one of the great unintended consequences of this rule change. Landlords will be heavily incentivized to increase the gap between the mortgage interest they pay and the rent they receive. The easiest way to do this is for a landlord to jack up the rent.
For example one of my tenants has just moved out after a period of 6 years in one of properties. Over that time I didn't increase the rent once. By the end she was paying around 75-80% of the market rate in the area. However she was a perfect tenant (very friendly, rent always arrived on time, she treated the place as her own and even redecorated it for me!) so I was more than happy to be receiving well under the market rate for the peace of mind of having a great tenant. If the new tax regime had been in place I would have likely been forced to increase her rent to the tune of 20%. That's not what HMRC would have had in mind when they came up with these changes.
Set up a Ltd company. These tax changes only affect individuals not companies. If you buy property within a property the company will only be taxed on revenue after expenses so all finance costs are deductible. Further more in 2018 corporation tax is due to fall to 18%. However be warned you'll still need to get any profits out of the company in a tax efficient manner. Also if you're transferring existing property into a company you may be liable to capital gains tax if the value is greater than when you bought it.
Transfer it to your spouse. If your significant other is a lower rate tax payer then you may want to consider transferring the property into his/her name. Doing so is exempt from capital gains tax,  unlike the Ltd Company option mentioned above. However be careful to ensure that the extra rental income/profit doesn't push them into a higher tax bracket.
Summary
Like most tax problems this one sounds scary. However with some careful planning, the effects of these changes can probably be mitigated using some of the possible options above. At the very least you should be able to reduce the impact or seek out offsetting tax breaks elsewhere in the system.
Oh and I'm afraid we can't finish this article off on such a positive note…..if you're looking to buy a new/additional buy to let then the latest kick from the chancellor is his announcement in November 2015 that those buying second homes or buy to lets will face an additional 3% hike in stamp duty from April 2016!