Well, how easily the months slip by. I've had a few concerned emails  from regular readers enquiring about the lack of posts and downtime of the site over the last few months. There's been a few reasons i've been away so I've set out my defence below and I'll leave it for you to judge me!
Information Underload
I've been experimenting with a low news diet to some extent, similar to that discussed by TEA recently. This has involved doing my best to avoid the sites/news outlets listed below.
Feedly (my chosen tool for aggregating blog post updates)
BBC News
Bloomberg
The FT
Facebook
Twitter
The relevant  apps were deleted from my phone and with the exception of Bloomberg (for work) i've rarely visited the others over the last few months. When I have visited them it's been short, sharp and snappy. No loitering, no spending vast amounts of time everyday reading nonsense that in no way improves me in any way.
As part of this diet I purposefully restricted my portfolio updates/checks to once a month (which is the frequency I use to update my portfolio xls). When deciding to do this a little part of me was scared stiff one of my investments would have gone bankrupt or encountered some massive decline in price. Guess what…it's been chugging along all tickety-boo without me fretting over my monster xls every few days. I guess this is thanks to my passively active strategy.
House Move & Renovation
After some time debating at length whether it was a good idea, we've recently moved house. As a result time has been very short. It's a bit of a fixer upper but is [just] liveable in in it's current form. We've had to give the kitchen a quick once over to make it useable as it was even more frigteneing thatn we thought once we moved in.
Longer term we're planning some pretty major home renovation works. While it's likely to be a multi phased project it'll involve the following:
Insulating the shit out of the place
Optimising the efficiency of existing lighting/water/heating systems to reduce ongoing costs
Bathroom renovation
A single story extension (to dramatically improve the living space as well as free room for the below)
Conversion of part of the house to a holiday let/BnB/rent a room/annex/sub let (i.e. another potential branch for the money tree)
Some minor external landscaping works
Embarking on a project like this has been something we've wanted for a long time. While it'll likely involve significant financial outlay we've satisfied ourselves that the expected 1 financial paybacks (a three pronged attack of lower running costs, long term asset appreciation and income generation) are worth the initial outlay and hassles during the execution phase.
Given I've been gorging on various DIY/renovations blogs and forums recently there's also a fair likelihood that i'll share some of the works/improvements on here as and when the time comes.
Family Time
Its been (and continues to be) an incredible journey into fatherhood. Witnessing a mini version of yourself enter the world and be so dependant on you, while at the same time steadily battling to become independent is an amazing thing to witness.
Spending evenings and weekends with UTMR Jnr has unfortunately left far less time to post here. Going forward i'll be aiming for more consistent but less frequent posting.
Technical issues
Unfortunately the site encountered a technical issue a while back due to a conflict between one of the WordPress plugins and the customised theme I'm running. Lack of time meant it took me some weeks to finally get round to fixing this. Soz.
Work
The finance industry has been a damned busy to be working in the finance industry what with all the excitemnt of Brexit and then Trumpageddon. It's been fascinating to see just dramatic market moves, expectations, anticipation, panic and general bemusement over the last few months.
After all the panic, stress and worrying I've witnssed at work since I last posted here almost 6 months ago here we are with the FTSE 100 broadly where it was when i left…infact it's up around 3.7%!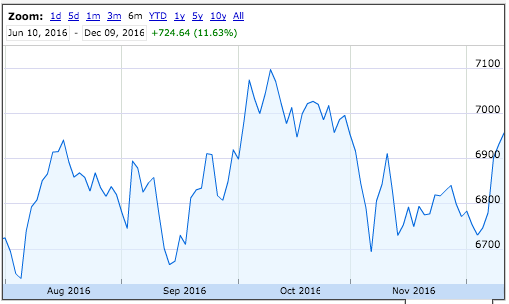 Finally many thanks to those readers that have emailed/tweeted/messaged etc to check up on me. I promise I won't leave it so long next time.
Notes:
1Nothing is guaranteed