As mentioned in my last post we've had (what is most certainly) a life changing event happen here Under The Money Tree. While I promise that this site won't turn exclusively into an online homage to reusable nappies I can't let an event like this pass without posting a few observations of the things we've learned so far.
1. Priorities Change
Whilst I knew having a sprog would change things, I wasn't fully prepared for how much my priorities would shift in such a short space of time.
Suddenly the prospect of 'suffering' some additional time in the office suddenly doesn't seem so bad when the future benefit will be for the little man. Of course that's a doubled edged sword right there because I simultaneously want to spend as much time as is humanly possible with him.
It's been a month now and already he's changed so much so the prospect of missing out in the future isn't very appealing.  Now the paternity leave is over I'm already spending more time with Master Excel than Master Money Tree.
What I'm trying to say is that I've immediately become a whole lot less selfish. I'm suddenly willing to sacrifice anything for the little man. Exactly how much impact there is to both my finances and work/time remains to be seen. After all there is nothing worse than a spoilt child.
2. Sleep is over rated
Last night my little man woke me up at 1am, 3am and finally at 5.20am. I managed to ignore the 1am call, chipped in with a nappy at 3am and at 5.20 it wasn't far off my alarm going off (5.50am) so I didn't bother going back to sleep.
After 5 weeks of the above 'routine' I've not found it too bad so far. Sure I'm knackered most of the time, but then I always was anyway before his arrival.
3. Spending Habits are unchanged
Of course it will no doubt take many years before the true financial consequences of our new arrival is. Having a child can change your spending habits in a major way, that is clear to me after only being 5 weeks into the journey. I'm hopeful that like Mr & Mrs MMM we'll be able to look back and report UTMT junior to be a $140 baby or close.
Thankfully we've benefitted hugely from generous family and friends that have given or lent us all manner of things including a cot, car seat, moses basket, baby monitor, baby grows galore, teddies, steralisers, breast pumps and a whole host of other gadgets and gizmos that would easily cost a sizeable four figure number to buy new if we were that way inclined.
We've simultaneously watched some friends from our NCT classes drop some big money on a whole host of guff.
Some of the easy stuff we didn't do:
Buy new when friends and family kindly offered to lend/give us their bits
Spend hundreds redecorating a nursery room that hasn't been used yet!
Spend hundreds on baby specific furniture (see below)
Buy any baby grows when all the advice said we'd be given more than we needed (which turned out to be correct)
4. Beware the Marketing Men
Much like Apple managed to create a new market for tablet computers, marketing departments the world over have seemingly managed to 'create' new products that are supposedly required the moment you add a baby to the family.
Some friends who were expecting around the same time invited us over to view their nursery a few weeks back. Amongst other things they took great delight in proudly showing us their spanking new 'changing unit' which I later found out cost in excess of £500! This is some truly great marketing by the baby furniture industry as in reality all this thing is is a chest of drawers with a 1″ dowel rim around the top.
We resisted the urge to spunk 500 large for the sake of it and instead began by using an old TV unit (which was itself converted from an old pine storage unit a few years back) as a 'changing table'. However after a couple of days experience we quickly decided the floor was the most practical/safest place to deal with the consequences of an all milk diet.
If you're easily tempted by the urge to splurge then having a baby opens up a whole new world of ways to abuse your credit card. Thankfully we've managed to avoid most of this so far.
5. Investing Habits Remain
Of course brewing on my conscious is what/how/when to invest for the future of UTMT jnr. Naturally one of my first stops will be Monevators take on things. Naturally it's a no brainer to get the youngster exposed to some compounding interest however closely followed behind is the need for me to keep control of the investments to minimise the risk of them being squandered.
Also I need to try to devise a way to educate him in the world of saving, financial wisdom and frugality. I need to ensure that he doesn't see any investment fund that is accumulated on his behalf as an entitlement. Ideally there would some way for him to 'earn' it in the future rather than just being given it.If you have any ideas how to implement some sort of 'incentivized' investment program for kids I'd love to hear form you.
For now the UTMT household keeps investing and saving as if nothing has happened.
6. Time is Short
I was time poor before having a child, or so I thought. Since his arrival my time has become even more scarce.
Children demand (and make you want to give them) lots of attention. Previously after getting home from work I'd do all sorts of jobs (some garden work maybe, writing, photography, DIY projects) before thinking about dinner. Now its a mad scramble to spend as much time with him as possible and everything else has to some extent taken the back seat.
The effect of all of this is that I've become a hell of a lot more efficient at life's admin. Now the minute I get home my cycling clothes/kit and breakfast are all sorted and put in order within the first 3 minutes of walking through the door. Writing is being done more on the train, DIY is either on the back burner or outsourced.
7. The World Keeps Spinning
I've seen some new parents disappear off the face of this earth as soon as the bun is out of the oven. It seems when some people have kids they can never leave the house again for fear of breaking 'the routine'.
We've been making a conscious effort to keep things normal and live as close to a normal life as is possible with a newborn. We've been out for meals, we've done the gardening, hell we've even stayed at a friends for the weekend.
Life goes on Under The Money Tree….we just have a new this little dude hanging around with us now…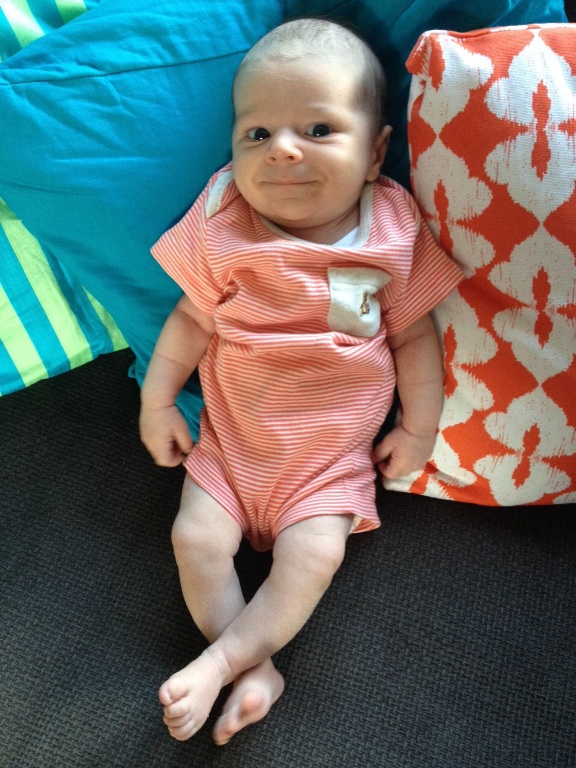 Right, I promise that is the last of the baby pictures for a while now!