This weeks budget brought about some big controversial changes. I won't delve into all of them here, but instead comment on the fact that this and other recent budgets have made it possible to earn significant amounts of income without paying any tax – something most people are interested in!
I'm lucky in a sense that I currently earn a good London based salary in the financial services industry – well above the UK average. This also means that every month I pay a sizeable chunk of my salary away in income tax. Unfortunately I'm not a fat cat (more of a little kitten) so the firm won't pay me in some highly efficient offshore/deferred/sharebased/tax minimizing manner. I get paid well but at the end of the day I'm a plain old PAYE monkey.
While I'm happy to pay my share of taxes the current regime is certainly not one that promotes fairness. The chart below is a little out of date but take a look at how the marginal rate of tax paid changes as your earnings increase: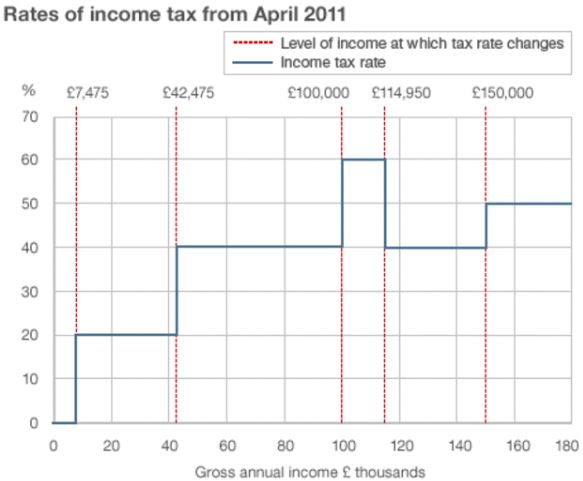 I'm sure most people would agree that the more you earn the more tax you should pay. However I'm sure most people would also agree that it's a bit unfair that someone increasing their earnings over one of the current thresholds suddenly sees their marginal tax rate doubling. What possible/logical reason is there for the marginal rate to spike up at £100k only to drop back down at £115k?
Answer: None.
Surely a much fairer way would be to design a system where the blue line is a steady/predictable upward diagonal slope, devoid of the large steps we currently have.
If you were to ask a million monkeys to sit down and design a tax regime for the UK from scratch, I would wager everything I own that none of them would come up with anything remotely similar to what we currently have in place. The same would almost certainly hold true if you left the monkeys to their bananas and instead asked a million civil servants.
The effect that this system has had on me personally is de-motivation. To work harder, put in more hours, grease more poles, polish more turds is rewarded with not much extra post tax income. Unless there is the carrot of a BIG pay rise then I'm afraid the system motivates me to tread water, do just enough and frankly add to Britain's appalling productivity rates.
There's no need for violins because I know I'm incredibly lucky to earn what I earn. I may already be over paid and/or just plain lazy but the system currently de-motivates me
What does motivate me is to fully utilize any tax free allowances that are kindly made available to my wife and I by the government. I've discussed some of these allowances before on the site but the recent budget brought about some changes that are worth mentioning.
Dividend Tax Changes
One  key announcement in the budget was that existing dividend tax credits will be replaced by a new £5,000 tax free dividend allowance for all tax payers starting form April 2016. Go above the £5,000 and your dividends will be taxed at the following rates:
Basic rate taxpayers: 7.5% (up from 0%)
Higher rate taxpayers: 32.5% (up from 25%)
Additional rate taxpayers: 38.1% (up from 30.56%)
The dividend tax credit scheme currently in place is arcane and unnecessarily complex so a simplification such as this is surely a good thing and long over due.
By making these changes the government is giving a benefit to those with lower level dividend incomes and increasing the taxes for those with sizeable portfolios that throw off lots of income.
In fact the real reason for this change is that by upping the tax rates on dividend income the government is trying to discourage 'Tax Motivated Incorporation' or TMI (setting yourself up as a limited company and paying yourself dividends rather than salary in order to save tax). As a result many of the contractors I work alongside are cursing big George as their tax bills will be on the increase from April next year.
To date most of my stock market investments have been sheltered away in ISAs, something that's been made more possible when the annual limits were raised to £15,000. From a personal perspective I'm viewing this £5k dividend allowance to be like an additional floating £100k(ish) ISA allowance attached to my previously taxable trading account. In other words I can build up a portfolio outside my ISA that can throw off up to £5k a year of tax free income.
Personal Allowance Increased
The personal tax allowance is to be raised from £10,600 to £11,000 in April 2016. Not spectacular but it means that the first £11,000 you earn isn't taxed.
So what about that £34k?
So taking a step back, what does all this mean? Well in effect you can  now pull in an income of £17,000 per year without paying a single penny in tax. To do this you'd need to have:
A salary of £11,000
A share portfolio producing £5,000 in dividend income
Cash savings yielding £1,000 in interest
If both you and your partner tick all of the above boxes then you can generate £34,000 tax free income per year. If you're living a frugal life, keeping your expenses low , manage to pay off the mortgage early then you should be able to scrape by on £2,833 each month!
Of course this is before you take in to account the very generous ISA allowances on offer (currently £15,240 per year). All income produced by ISAs is tax free too and there is (currently) no limit on it.
Given my current marginal tax rate I'm certainly aiming to get my wife and I in a position to be able to maximize as many of these allowances as we approach financial independence.