Dove soap, Hellmans mayonnaise, Ben & Jerry's ice cream, Surf detergent, CIF cleaner, Lipton tea are just a few of the household goods brands that Unilever owns. There's a very good chance there are several Unilever products in your home right now.
I've been looking at the stock for a while now and believe now is the right time to add it to the Money Tree portfolio.
Revenue 
Revenue declined 3% between 2012 and 2013 down to €49.8bn. However beneath this 3% decline was a -5.9% decline due to fx moves, primarily in it's Emerging Markets. 
This exposure to FX surprises me. It was no secret that the US QE tap was going to be turned off at some stage and that this would lead to declines in EM currencies. I'm surprised that they left themselves exposed to such fx risks and that they clearly didn't hedge out very far in the curve. I suspect (hope) they will have learnt their lesson.
Long Term Growth
Looking at Net Income they reported €4.8bn in 2013 versus €4.4bn in 2012, driven be a reduction of operating expenses from €44.3bn in 2012 to €42.2bn in 2013. A good control on costs is something I like.
Unilever has stated that it aims to achieve 75% of it's sales from Emerging Markets by 2020. Currently 55% of sales derive from EM markets so over the next 6 years it's planning quite an expansion of sales. Add on to this the fact that I would expect Developed Markets sales to bounce back with the continued economic recovery and over the next few years we should see some significant revenue growth.
Improving Margins
Perhaps one of the most pleasing ways in which the company has made progress in recent years is with the improvement of its margin. Both return on equity and assets continued to show an upward trend in 2013 and net margin increased to 10.6% in 2013 versus 9.4% in 2012.
If the company can keep improving it's margins then I think the improved eps will be reflected in the share price. The management seems relatively confident of being able to keep the momentum going on the margin from which is a good sign.
Dividends
At the current price of £24 the dividend yield is roughly 3.8% which just about brings it into the zone where I get interested in a stock as an income play.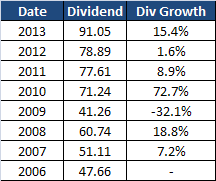 Since 2006 the average annual dividend growth has been 13.2% which is especially pleasing when you consider that this period includes 2009 when it slashed it's dividend (down 32% on the 2008 payout) due to the global financial crisis.
Slightly less appealing is the dividend cover or payout ratio which currently stands at 63% which is lower than the industry average. However Unilever pays quarterly dividends which is appealing as it speeds up the compounding effect of dividend reinvestment.
Price
With the Price Earnings currently standing at 17.3 it's not the cheapest share however other similar companies are more highly valued, for example: Reckitt Benckiser (18.6), L'Oreal (21.8) and Nestle (18.7).
As you can see in the chart below ULVR has underperformed the FTSE in 2013 (primarily due to the EM fx issues mentioned above). This reduction in the price has brought it's yield into an attractive level a little under 4%.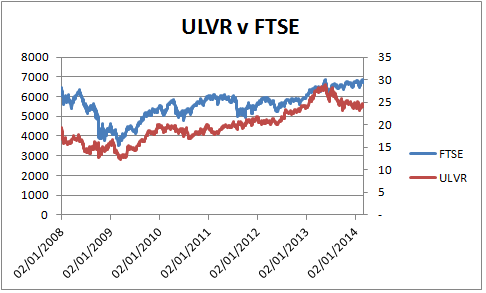 Summary
I consider Unilever a solid, defensive share with good long term prospects in terms of both income and profit growth. I see no reason why this can't and won't be translated into future increases to dividends.
Being a retail stock the business is pretty easy to understand. Unlike many companies out there, it doesn't need to spend vast amounts of capital to constantly reinvent it's technological edge (think most technology stocks) or fund huge new projects (think oil/mining stocks).
Most of it's future income will come from maintaining and further developing it's brands in both existing and new markets. This means that future growth (particularly into new markets) should be comparatively capital cheap compared to other industries. More importantly it means that it can pick and choose the rate at which it grows revenues as it is in control of which brands/products to roll out in which markets. There  is not much 'risk' in it's capital expenditure.
The vast potential for Unilever to grow in the Emerging Markets should mean that growth can continue for many years to come. Any short term volatility in the Emerging Markets should be negated by this longer term growth opportunity. I'm looking to hold Unilever for the long term so am happy to ride out any short term volatility and hopefully watch the income it produces increase over time.