Perhaps one of the biggest cliches in personal finance/money saving blogsphere is the 'how much can you save a year on lattes' post. I've resisted for a few months now but being such a big coffee drinker there was only so long I could resist for. Apologies in advance.
While the post below touches on the financial benefits of avoiding coffee shops, the main focus/intention is to share my tips on how to make good coffee both at home or in the office.
My real love of coffee developed about 7 years ago after a holiday to Italy. After discovering the life giving benefits of an afternoon espresso it wasn't long before I found myself slowly drawn into the routine of a decent morning coffee at work and an afternoon espresso.
About the same time, I all but gave up running (due to injury) and discovered the joys of long distance cycling. Coffee and cycling go hand in hand. For cyclists, coffee is the legal dope of choice. It helps you ride further and faster. It gets you ready to ride on those early, dark February mornings plus it gives you a great excuse to stop after 60km for a slice of cake.
"Coffee is there to help with things I can change, red wine to help with those I can't."

Ermine, 2014
The Personal Finance Economics of Coffee
Soon after my coffee addiction became established I discovered the joys of 'Coffee Buzz', a tiny coffee shop situated close to work in Broadgate Circle in the City of London.  Owned by some friendly Moroccan guys, the constantly long queue outside told you how good the coffee was. While they provided exceptionally good coffee it wasn't long before my wife and I were furnishing these guys with £2,600 a year (2 coffees a day each every business day… 2 x 2 x 260 = 1,040 coffees @ £2.50 = £2,600).
After doing this for a few weeks (and calculating the consequences) I decided that enough was enough and I had to find a cheaper way of doping myself through the tour de office each week. After much research, trial and error, here's what my coffee regime currently look like…
The Grinder
Head over to any coffee forum (such as here) and the advice that gets repeated over and over to newbies is this: buy a decent espresso machine then go out and buy an even better grinder.
Most aficionados state that creating good espresso without a good grind is nigh on impossible. You'll generally be left with watery, bitter tasting meurghh if you're using a bad grind. The grinder is what makes the coffee, not the coffee machine.
The only problem with this advice as that the recommended Mini Mazzer grinder cost circa £500 and takes up significant amounts of kitchen worktop real estate and certainly doesn't have compact size my wife would approve.
I figured that it must be possible to find a decent grinder without having to spend £200-£400 and fill half of the kitchen. After a huge amount of research I plumbed for a frugally friendly De'Longhi KG79 burr grinder. At less than £40 the majority of the forums told me this would be ok for stove top brews but wouldn't cut the mustard when used to attempt espresso. However buried within the Amazon reviews was a great hack…
To counter the complaint of too coarse a grind (for espresso) one clever soul had figured out a way to lower the top burr by adding a thin washer cut out of an old plastic milk carton. After doing the same I was able to grind beans down to the consistency of flour – more than fine enough to make good quality espresso.
The Coffee Beans
Coffee ain't cheap. It's well known that the fresher the roast and grind of a coffee, the better it tastes. Owning a grinder solved the latter problem but getting freshly roasted beans on the cheap is much harder. As a result, 90% of the time we drink Lavazza Qualita Rossa beans. In terms of the trade of between taste, consistency, conveniance and value they hit the right balance for us.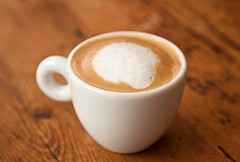 Online or in the supermarket you'll struggle to get these for less than £12-£13 per kg however head to Costco and you'll pay just £7.99 per kg. In order to preserve the freshness as much as possible we store them in the freezer, removing them in smaller batches before use.
Now I'm aware that Lavazza beans from Costco won't be as fresh as the artisan roaster in trendy Shoreditch (for which you're likely to pay around £20/kg) but we're looking to save some £ here.
For our tastes, using the tools stated here and these beans, we can produce what we consider pretty damned good coffee for a fraction of the price we were paying. Improving the quality from here would take a lot more $.
The Espresso Machine
Numerous hours of trawling forums and review sites lead us to purchase a Gaggia Classic espresso machine. We bagged ours in a sale for £200 however they appear to be about £250 these days.
While the build quality of these machines has allegedly gone down since Philips purchased Gaggia in 2009 (via it's takeover of Saeco International Group) there are several nice features of these espresso machines:
The machines simplicity means much like Trigger's Broom all the parts are replaceable
Spare parts are readily available online
Searching online reveals many hacks to upgrade/improve your Gaggia Classic
Upgrading to a non pressurised filter basket produces far better results so long as your grind is right
If I'm not drinking espresso from the Gaggia then it tends to be an 'Americhino'. This is my own concoction which sits somewhere between an Americano and Capacinno. 1 shot of espresso, half cup of steamed milk, half a cup of boiling water. The drink is perfect for my tastes: not too sweet yet long enough to sit down and enjoy.
Unfortunately until the Money Tree reaches maturity, my wife and I are destined to commute to London daily for work. In order to make the daily pilgrimage bearable I make us a fresh coffee to enjoy on the train to work. Our Lifeventure flasks do a great job of keeping the coffee hot enough to enjoy either en route or once we reach our cells.
So What's the Cost?
Each 'shot' of espresso typically uses 15-20 grams of coffee. Based off 20 grams per shot, I'd expect to get about 50 coffees from 1kg of beans,which works out to about 16 pence per cup. Lets say my wife and I are consuming 2 shots each on work days. Assuming a 260 day year then the cost of coffee is £166 per year, significantly less than the £2,600 we were spending before. We've been following this regime for about 4 years now so if you do the maths, in that time we've saved about £9,726! Invest that £9726 on a 5% yield and we're winning to the tune of about £487 per year in income, before compounding!
Naturally I should get really geeky and calculate the depreciation of the espresso machine and grinder and work out the water, milk and electricity costs per shot. I can't be bothered but even if I doubled or tripled the above amount we're still drinking great coffee everyday for not a lot.
The Day Job
Drinking coffee at work of an afternoon is a dangerous game. Usually you're either stuck between drinking the free ditch water that comes out of the vending machine or spending 6%1 of your take home pay at the coffee shop. Fortunately in the office we have access to a kettle/sink etc so there's the possibility of making some half decent coffee myself.
My weapon of choice for brewing coffee at work is a french press or cafetiere. It's simple to make, easy to clean and if done correctly produces good coffee. I grind my usual Lavazza beans at home and take enough to the office to last me 2-3 days at a time.
Here are a few tips I've picked up to get the best from a French press and avoid bitter brews:
Always preheat the cafetiere with hot water
Once the kettle has boiled allow the water to cool for 2-3 minutes before mixing with the grounds
Don't over stir the coffee/water while brewing
Brew for about 2-3 minutes before pouring
Playing Away
Holidays, weekends visiting family and emergencies require a different approach. No household should be without a stove top moka pot, aka a bialetti….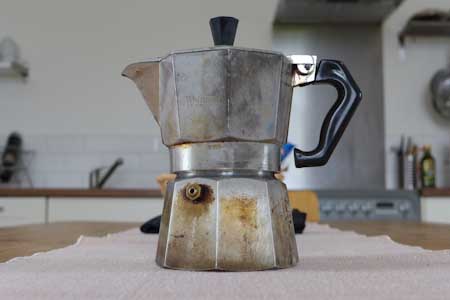 In my view this is the next best thing to a fully blown espresso machine. While it doesn't makes espresso it does produce a thick dark strong coffee that forms the perfect base to most longer coffee drinks. For the best results I always accompany a stove top brew with hot milk (stove top or at a pinch microwave) as makes the end result slightly sweeter.
The Odd Indulgence
The beauty of this system is that many of our friends and family have become aware of our affiliation to coffee. As a result we quite often get given some nice, freshly roasted beans. Likewise if we're out and about we might choose to get in some freshly roasted beans to enjoy as a treat.
If you're not careful you can spend vast amounts of money each year on coffee. At the same time life is too short to drink bad coffee and I think we've found the perfect balance. But can it be improved? Feel free to leave a comment and let me know your coffee routine….
Notes
1Based on my old spend of £1,300 a year versus the average annual take home salary of £20,634