There's a lot in the press right now about London's housing bubble. It's no secret that property prices in the capital have been rocketing. Most of press stories out there seem to be blaming rich Arabs or Chinese who are allegedly snapping up the whole of West London. If you believe the papers the bubble is ripe for bursting.
I've got a vested interest in the London property game so I've been taking interest in all this bubble chat.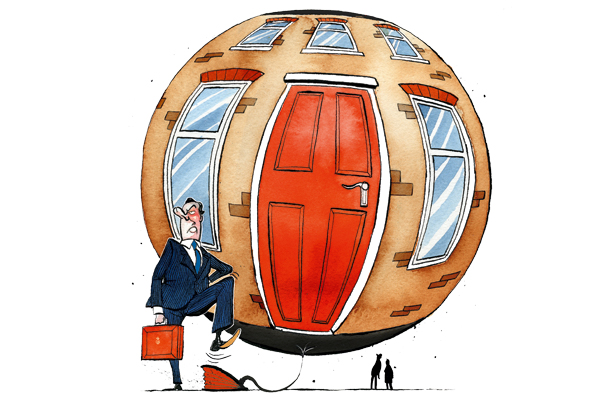 image source
In particular I was reading this article on the FT (link is a search result for those that don't subscribe) which had a few interesting statements in it that I'll consider below.
growing concerns about a property bubble in London where investors, both international and domestic, have been piling into the market in search of yield they cannot find in other asset classes.
If the investors find the yield they need/want then what's the problem? Personally I've looked at a few opportunities and not really found the yields on offer generous enough (at current price levels) to tempt me to increase my property holdings.
With interests rates so low, anything that yields 4-6% now seems to classify as high yield. Any asset that returns a steady (high yield) income and has a capital growth profile over the last 28 years that looks like this (chart below) seems like a pretty safe bet right?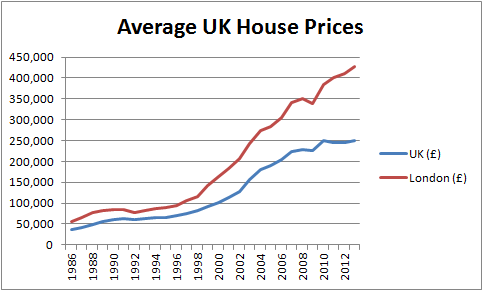 source: Office of National Statistics
Of course the chart above looks lovely for us property owners but if this current surge in prices is being driven by the search for capital gains then that's a different matter. If the boom is funded on promise of capital gains then we are likely headed for another short term crash.
In the post credit crunch world I suspect there's a hell of a lot less people around with mortgage debt that they shouldn't really have (i.e. can't really afford if prices fell). Those that survived post crunch can now probably afford to lose 20-30% in another crash. With lending now [allegedly] more stringent the investors creating this bubble should be good for their repayments.
the cost of a typical home in the capital being £362,699 – more than twice the level of the rest of the UK when London was excluded
I always find it strange when this type of statistic is given as evidence of the London property bubble. What never gets mentioned is that London might as well be a completely different economy to the rest of the UK. I'm not saying it is right, I'm not trying to start a north/south debate, I'm just calling it as it is.
I work in London and live roughly 65 miles outside the capital. I own properties both inside and outside the capital so I know first hand just how different the two markets/economies are.
I can easily see how and why prices inside the capital are twice the price of those outside. If I were to resign from my job tomorrow I am pretty certain that in order to get a local job (i.e. not in London) I'd be staring down the barrel of a very significant pay cut, quite likely in the region of 50% as it happens.
There is a another interesting revelations from Susan Emmett at Savills who states:
What we think is going to happen is people will start leaving London in search of better value.
Damned right, I did it 4 years ago! If people have got half a brain they'd do what we did. Move outside of London but still work there until you can afford to not have to. And whatever you do never sell your London property!
This whole early retirement/financial independence/money tree thing is all about reducing expenses and increasing income. Living outside London but working inside is the perfect way to super charge the whole wealth creation process. However saving on housing costs isn't the only benefit of rural life.
Since moving out of the smog (alright it is currently smoggy up in the shires too!) we're saving a packet each month on all sort of things that are cheaper outside of the smog (e.g. meals out, tradesmen, good quality organic food, car repairs, cinema tickets, entertainment etc etc). Pretty much everything that isn't bought from a multi national company is far cheaper 65 miles up the road.
The longer I can have my income inside London's bubble and my expenses outside the better.
Whether the London housing bubble bursts or slowly stops inflating (as the yields disappear via price increases) I don't really care. In the long run I'm convinced this split economy will mean that at the very least my London property will continue to offer me a decent historical yield, no matter what the capital value.