Being relatively young (mid thirties) means that NISAs (ISAs) are the savings/investment vehicle of choice for me when it comes to the stock market. While there are generous tax breaks on offer when you put money into a pension I currently prefer NISAs for the following two reasons:
Any future income or capital gains generated are free of tax
Unlike a pension I have instant access to my capital and/or income if required
Tax is a shit. Assuming I live to 90 years old then I've potentially got 55 years of income tax to pay ahead of me. Eeek!
The prospect any investment income I receive being free of tax for the next 55 years is a much more interesting prospect than lining the chancellors pockets for the next half century. This is the reason why I'm stuffing my ISAs with gusto and leaving the additional pension contributions until nearer the time when I can get my hands on my pension savings.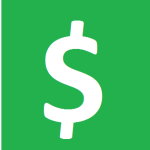 Measure Your Progress
A while ago we posted some income tables that allow you to quickly look up how much capital you'd need invested in a tax free vehicle like an ISA in order to achieve a given monthly or annual  income. I find myself continually going back to these tables to gauge the progress of my NISA accounts.
I'm fascinated with measuring the trailing 12 month average income my portfolio produces. This is the one number that means the most to me and motivates me to save and invest more, more so than my net worth. The fact that NISA income is tax free makes it even more delicious!
As I see this number increase each year I sense my financial freedom coming closer. This is the number that (in conjunction with my monthly expenses) will ultimately have a big say in determining when I reach financial independence.
While the number is only relevant when added to my other investment income and compared to my monthly expenses, it is interesting to see how it compares to common income figures that get banded about.
Below is a table of a variety of jobs. I was interested to see how much NISA capital you would need in your war chest in order to generate the equivalent income. In the examples below I've assumed the 'capital required' is producing an annual income yield of 4.5%.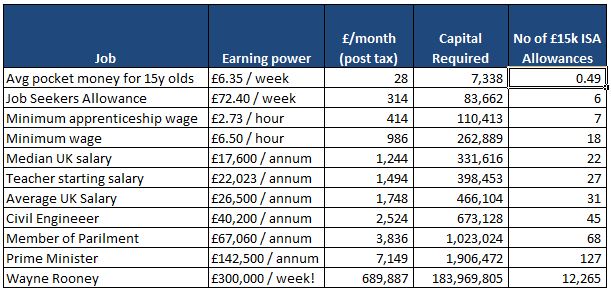 Upon first glance it might seem quite daunting that you have to save the equivalent of 31 NISA allowances in order to produce a tax free income equal to the take home pay of the average UK salary (£1,748 per month). It's no lie that filling ISAs for 31 years to achieve the average UK wage doesn't sound like a fast track way to financial independence.
However remember that there are a few other factors that can/should be working in your favour:
1. Ever increasing capital. Until you start drawing you're income you'd be well advised to follow rule #1 of the dividend investing rules. By compounding your income early on you can seriously reduce the amount of capital you'll need to inject into your income machine.
2. 4.5%. If you can return more than 4.5% per year in returns (capital + income) then you're capital pile will increase much faster. Of course if you're willing to take on more risk then you're might be able to return significantly more than 4.5% – buyer beware though!
3. Join it up. If you're married both individuals get a separate NISA allowance. This means that a married couple can stash £30,000 per year into NISAs, halving the time it takes to reach the desired income. The only tricky part i finding £30,000 of disposable income to stash away each year.
4. Steady old boy. Don't forget that at some point in the future you'll likely receive some sort of pension income, hopefully both in the form of a state pension and a personal company pension or SIPP. This means that at some point in your retirement your income will rise. This means that you'll need less NISA income to maintain the same disposable income as before you started receiving your pension. This means you may want to draw down some of your capital in the period before you start drawing your pension/s.
5. Screw that. Of course the less you spend the less income you'll need. No matter how you do it saving money is just as, if not even more powerful than increasing your investment income!